Biking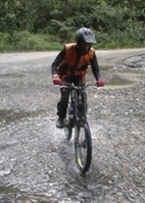 The bicycle is a good way to explore the area around Lake

San Pablo

, be it cross-country or by sticking to the roads. While the immediate area around Lake San Pablo is rather flat, the surrounding hills can be very demanding in terms of fitness and experience.
There are also some options for downhill mountain-biking in the wider area, e.g. going down the lush Intag Valley.
Bikes can be rented on an hourly or daily basis, and you can choose to go on your own or with an experienced guide. If you are staying in Otavalo, you also can rent bikes there, and take a camioneta-taxi to the starting point of your bike ride.